James Allen
James Allen is a relatively obscure author. His inspirational writings have influenced millions for good - after his death. His nineteen books give no clue to his life other than to mention his place of residence - Ilfracombe, England. Born in Leicester, England, into a working class family, Allen was the eldest of two brothers.
His mother could neither read nor write while his father, William, was a factory knitter. In 1879, following a downturn in the textile trade of central England, Allen's father traveled alone to America to find work and establish a new home for the family. Within two days of arriving his father was pronounced dead at New York City Hospital, believed to be a case of robbery and murder. At age fifteen, with the family now facing economic disaster, Allen was forced to leave school and find work.
As A Man Thinketh: a Literary Collection of James Allen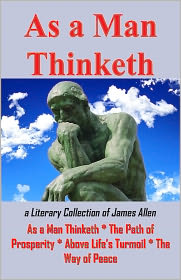 As a Man Thinketh * The Path of Prosperity * Above Life's Turmoil * The Way of Peace are in one, affordable, electronic edition especially formatted for the iPhone and Nook and the Kindle.
more information
Why we republish public domain books?
James Allen is a kind of an author why we republish books of carefully selected authors. He was rather obscure while working. Never made much money on his books and he was a quiet, reserved man. He was a mystic and every morning he meditated (this was not a very popular activity, back in his era). He made lasting impression on people whom he had encountered.
This is what one friend wrote about Allen; "as a frail-looking little man, Christ-like, with a mass of flowing black hair...... I think of him especially in the black velvet suit he always wore in the evenings..."
To offer a tribute to the memory of James Allen, I have converted his four of his most popular works into .ePub, .mobi files in order to offer it on most electronic readers, for a wide variety of devices.
"In our words/deeds we live on and become immortal"